Bicycle Journey Around The World Picture At An Exhibition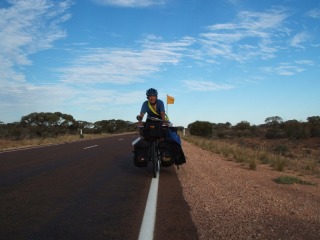 Infomation
Left manu means yy_mmdd_Country.
Pcture is my bicycle journey around the world from 2005.
I rounded Japan in 2002.The photograph exists most below about left menus. If you interested in Japan, Pease see my photograph. I like Japan.
My Journey
I wanna travell with bicycle around the world. My Joney Start from 25 Dec 2005.





Target 100 Countries,100,000km.
Now 10 Contries 31,000km.

# 10、Japan (Temporary return)
# 10、Hong Kong
# 10、China
# 09、Vietonam
# 08、Combodia
# 07、Laos
# 06、Thailand
# 05、Malaysia
# 04、Singapore
# 03、Indonesia
# 02、East Timor
# 01、Australia

blog http://shuutak.com/ ( Japanese only)
picture http://shuutak.com/pipipiga/pipipiga.php?
movie http://www.youtube.com/shuutak

Profile
Name tak
Age 25
Country Japan
mail tak@shuutak.com
New
01/03/2009、This site is open.